About Petros
Petros is a vastly experienced coach and horse trainer and offers effective and sympathetic training.
Together with Petros you can develop an insight into how to produce a horse to be:
Petros can support you in improving you riding both in technical ability as well as developing a 'feel' and a philosophy that nurtures the horse's desire to please and give the best possible performance.
In addition, many years of experience in professional stable management and training students for Vocational qualifications (up to BHS stage IV) and Pony Club Tests; a valuable resource made available to you in furthering your knowledge of caring for pony or horse.
Over the years I have had the good fortune to ride and work with some of the best riders and trainers like Jook Hall (Olympic medallist and F.E.I. judge), Herman Diehl and John Lassetter.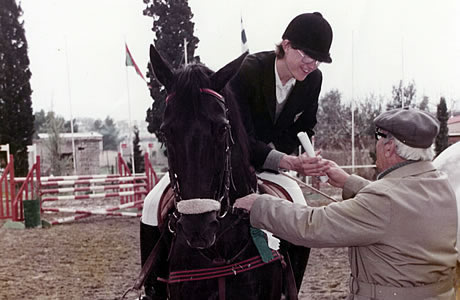 circa 1984, early days
Background
Ever since I can remember I have been obsessed with our equine friends. Early on, in childhood I had the fortune of being offered the opportunity to learn to ride at the Centre of Equestrian Training of the Greek Cavalry.  Having spent most of my teenage years training and competing with  their junior show jumping team in club and national competitions I was encouraged by Leeson Sirett (F.E.I. Showjumping course builder) to come to Britain to further my training and experience.
I trained as a working pupil at Patchetts Equestrian Centre and achieved firstly my BHSAI and soon after my BHSII. My deepest gratitude goes to my early mentor and coach Wendy Hawkes who imparted her vast and valuable knowledge and experience and supported me through many years at Patchetts Equestrian.
While working at Patchetts as an instructor and manager, I was also able to extensively compete in show jumping, Dressage and Eventing.  The great number and quality of horses at that yard allowed me to develop a broad spectrum of experience and the ability to deal with allsorts of people and their horses.
I'm very proud to have been part of what was one of the best training yards in the country.
Since 1998 I have worked freelance coaching riders and training horses at all levels of experience and ability.  It gives me great pleasure to see riders and horses realize their ambitions no matter how modest or extravagant these might be.  I always encourage riders to be patient with their horses and to set realistic goals, creating sound foundations that they can build on gradually over time, enabling their horse to develop both the physical ability as well as the confidence to perform at their best. Have been a British Horse Society member and qualified instructor since 1986 and since 2012 you can also find me on the panel of 'recommended Visiting Instructors' of The Pony Club.
My interest in assisting riders to develop has led me to further study with the Open University and have now achieved my BSc Honours Psychology with an Upper Second class Honours (2.1). This experience has been fantastic and a valuable asset in coaching as it has enhanced my understanding of human nature. I have been able to apply this knowledge in appreciating the complexity of the relationship with our equine friends and the sort of issues that sometimes hold us back.
Having completing my psychology degree I'm intending to proceed with postgraduate study doing Msc. Sports Psychology. I feel this would fit in well with my coaching approach that aims to take a holistic view of the rider/ horse development treating the physical body and psychological make up as enmeshed and inseparable, with one inevitably influencing the other. By understanding better what makes us 'tic' and becoming aware of what motivates or holds us back we can hope to relate better with our horses who are intuitively able to pick up on the vibe around us.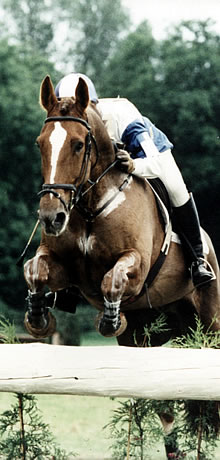 Our logo
Is inspired by the golden symbol found in the grave of King Phillip of Greek Macedonia, father of Alexander the Great. The etymology of the name Phillip derives from the Greek for "friend of the horse" (Philippos).