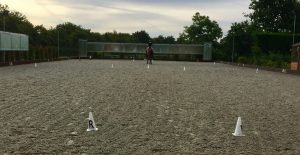 Our training playground!
Dressage training is about enabling better communication between horse and rider/handler. It should aim to produce more rideable horses that remain sound, enhancing their athletic ability while also preserving their willingness to positively engage with us in tackling any task required.  Happy and trusting horses perform at their best which makes for a peak experience for the rider. Riding with consideration for the horse while also being clear with our expectations increases the horse's confidence in its rider.
The dressage arena should be the playground for the horse not a torture chamber! 
Learning through play maintains the joie de vivre for the horse and rider!
A snap shot of our training in this video:
Niki and Bert enjoying dressage!