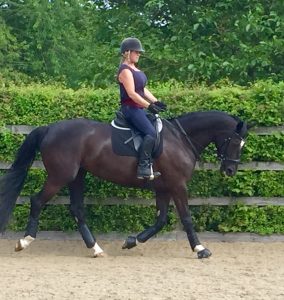 Wonderful to see Helen and Jazz back together enjoying their training!
One of the critical aspects of all equestrian training is to achieve the successful channelling of energy the horse can produce. Part of this endeavour is the contact with the bit that has to be nurtured and encouraged so the horse can trust it as a helpful point of reference for his balance and direction. In order for the horse to seek that contact and to be able to invite him to think forward to it, the contact has to be supplied by the rider through firm but yet elastic hands and arms. This will allow the natural movement of the horse to remain free while isolating any movement the rider's body makes, e.g in rising trot thus avoiding any disturbance in the horses mouth. As a rider we have a responsibility to recognise what is an appropriate frame of outline the horse can sustain dependant on his age/stage of training. Too much collection and shortening of the frame and we may well jeopardise the calmness in mind, forwardness and quality of paces, too vague a contact and we may not help the horse develop his balance and athleticism towards collection.
Coaching Excellence||Dressage- Eventing- Showjumping.