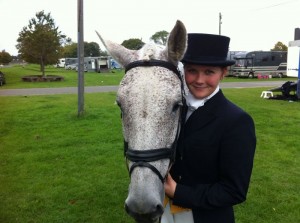 Following a great season of Novice in British Eventing and much thought, Petros and myself decided that Vinnie and I were ready to take on the next level; International CIC 1*. This was held on the 24th September at the South of England Showground
My fittening regime included having sessions with Petros to work on my sitting trot and encouraging vinnie work forward to my hands. For me this session alone would have been sufficent for my personal fitnessas i was constantly on the go. One of my favourite qualities about Petros is that the rider, and the horse are always moving and interacting – there is never a dull moment.
Three weeks prior to  the event I began to increase exercising Vinnie  to twice daily. Normally fittening work in the morning which included using hills to improve his balance and interval training. The afternoon session was either flatwork and practising the dreaded sitting trot or a jumping session. I also used the pessoa whilst lunging vinnie as it really helped improve the suppleness in his back.
Petros has always told me to sing a song in my head to calm my nerves in the dressage, so i did. As i was warming up next to the likes of Pippa Funnell, Ken Spencer and Phoebe Buckley i was singing Bob Marley – Dont Worry! Petros also gave me exercises to  improve Vinnie's straightness and suppleness – these included lots of changes of rein, flexing to the outside, counter canters and lateral movements.  The dressage went as well as i could have imagined – Vinnie was focused and we did a very sweet and accurate test. The judges agreed with petros that Vinnie needed to be more forward going. However, I still felt like I was competing at Badminton and my confidence was sky high.
The show jumping was my most anticipated aspect and as i walked the course the nerves were definately beginning to show. My mum, Gail, however, was positive as always saying that we had practised over much higher fences and the course had been built well.  As soon as I sat on Vinnie I felt my nerves wash away, as I entered the ring I was buzzing with excitement. I had 2 poles down, which I believe was my fault as I was slightly ahead of him to the upright, then a little too bold over the first part of the last double and he just touched the back pole. However, Vinnie flew over the triple and Wall beautifully.
The cross country was a longer course which included many of the intermediate and ** fences. This is our favourite part, so we set off feeling competitive and confident. There were a few fences that  I was a little nervous about, they included a step-up onto a cube then bounce of to a skinny house and what I thought was a HUGE ditch palisade, but in fact Vinnie jumped both fences the best.
Petros has  trained me cross country since I was riding around on my tiny ponies and he has seen the way I have changed and progressed through the levels. His positive attitude about BIG fences has always got me round the bigger courses. I particularly take note of his different approaches to technical fences including a different line or focusing on somethng significant in the distance.
Vinne and I finished 1 second over the time (520 mpm) and had a fantastic clear. Every jump felt magnificent. One of my main worries in the Cross Country is my fitness levels as Vinnie can get quite strong throughout the course, so i used a technique petros had told me to use when working vinnie on the flat to get him off of my hands; It involved using my fingers to control the bit in vinnies mouth rather than trying to steady Vinnie using my arm strength – this meant that i could check Vinnie up later into the fence therefore not slowing my time or rhythm down.
Overall, an absolutely fantastic weekend.
A big thank you to Petros for supporting me.