Coaching the rider
Petros aims to tune into the individuality of each rider he works with so that the sessions are targeted to the specific requirements of that rider/horse combination. By promptly assessing and prioritizing areas of work that need to be attended riders feel that they can achieve results in a session within the context of a longer term action plan. Petros always seeks to maintain a balance between setting achievable goals and sensibly stretching the boundaries of performance. The philosophy behind Petros's approach is that we all can, within our limitations and potentials, improve our skills in riding our horses so that we can maximize our pleasure of riding and the horse's happiness and willingness.
Petros will suggest ways of doing and ways of thinking that can unlock new horizons and possibilities for achieving better results with your horse. Encouragement of the rider to hone their awareness of what the horse needs them to do in order to be able to move freely and without negative tension is central to the coaching. Nurturing rider confidence in their abilities is also an essential ingredient of successful training. A good place to start is with all the things a rider does well and then try and build on these, while making gradual adjustments and improvements in the areas that need it. Often it is the smallest of changes that have the greatest effects! In this context one of the favourite sound bites is: "less is more".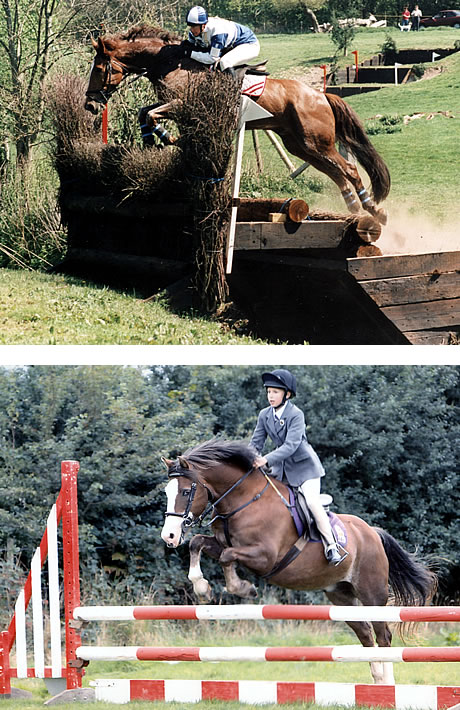 Lungeing
Many riders of all abilities benefit from spending sometime working on a horse that is being lunged so that they can improve their position, seat and balance. This of course requires a horse that is sensible on the lunge. The horse's lungeing ability may need to be improved first before lungeing is used to improve the rider. A good seat for a rider is one that firstly allows the horse to move freely and then secondly can hope to be able to influence the movement in a positive way. The best possible riding position is certainly something we owe to our horses.
Developing the rider's skills
Developing the rider's skills in assessing their horse's way of going assists the production of a systematic approach to their riding. This targets the work to the horse's needs and enhances performance. Through Petros's guidance riders acquire the tools needed to channel their horses towards a clearer understanding of what is required from them. Clear understanding and the gradual development of suitable physical ability allow then the horse to willingly perform rather than in any way be forced. These principles apply equally to any kind of riding, jumping, dressage or hacking out!
Preparing for dressage
Preparing for dressage tests can be approached to suit the individual needs. Some riders prefer to ride a test from start to finish in order to memorize it and others only ride individual movements when practising. We are all different in how we learn so it's important to identify the best mode of learning for us. The horse's temperament is also a critical factor in this process as some can over anticipate movements that are always strung together in the same order. This may be a good thing up to a point! What ever your individual style of learning Petros can help develop the most effective strategies and arena craft in approaching a dressage competition.
Getting ready for show jumping
Considerable preparation is also required if you are intending to compete in show jumping. Know how to walk the course, approach the different elements and all the rules that surround the discipline. If you are already competing and are finding some issues that you need to improve on Petros can help you identify a path to success. A systematic and comprehensive plan of action can be prepared in collaboration between rider and coach that will enable improvements to be achieved.
Learning about the best approach to the cross-country
Rider fitness and ability to judge the appropriate pace are some of the issues that need attention in educating riders to successfully tackle the cross-country course. Preparing adequately for riding a wide variety of fences is also essential. Building confidence by practising on schooling outings to various venues is a very good idea so that both horse and rider have encountered a broad range of jumping elements. Particular attention is given to developing the adaptability of the rider's position and balance in order to cope with the demands of this discipline. The exhilaration and buzz that one gets from a good cross-country ride is difficult to surpass!